DSM offers polyamide nylon 46 (PA 46) for low-friction timing parts for new generation petrol engines
The Royal DSM Group, which is active in the field of health, nutrition and materials worldwide, announces that its specially designed Lubricant Stanyl® PA46 material is selected for use in a new generation of energy efficient turbocharged petrol engines Low-wear chain rails for the system. The timing system components in the engine are built by Quadrant Creative Molding & Systems (QCMS), a global manufacturer of high performance thermoplastic materials, which is headquartered in Tilter, Belgium, and engine systems components are led by automotive engine timing chain systems - - Tsubaki Group provided by the British Nottingham subsidiary.
This new generation of energy efficient turbocharged gasoline engine has used a lot of high-tech in the F1 car in recent years, representing the highest level of miniaturization of the current engine, to achieve the driving performance and fuel consumption of the optimal combination, to enhance the engine power While significantly reducing carbon dioxide emissions.
The Stanyl PA46 is designed to meet the high demands of timing chain tensioners (including high temperatures, high loads, high speeds, harsh chemical environments and severe vibrations), so the material is widely used in engine components. Stanyl material has excellent wear resistance, its performance beyond the vast majority of the same type of thermoplastic materials, in the case of high temperature and high torque / load is particularly significant.
Stanyl series of materials beyond the performance of the vast majority of competitors, such as PA6 and PA66, polyphthalamide (PPA), acetal and PPS, its wear resistance can reach up to 7 times the PA66. (POM, PPS, PA6, PPA) or high wear (PPS) at high temperatures, such as brittleness (PPS and PPA).
Stanyl TW341 is the industry standard material for engine components at this stage, and DSM has also embarked on a new Stanyl TW371 new material for the next generation of engine-developed abrasion resistance. The material has a more significant advantage in reducing carbon dioxide emissions and improving fuel use. Tests show that Stanyl TW371's new material reduces engine internal friction by 20%. "This figure may not sound well, but it is not easy to achieve that at the current level," said Jippe van Ruiten, DSM's European automotive industry application development manager.
DSM worked closely with Japan's Tsubaki Seiko and Global High Performance Thermoplastic Company QCMS to ensure that Stanyl TW371 material meets all production and processing standards. Which QCMS company carried out a number of injection molding experiments to optimize the injection molding process; Tsubaki also carried out a series of products and performance testing. The final development of the new TW371 material will help the automotive industry meet the gas (carbon dioxide, hydrocarbons and carbon oxides) and particulate emission targets set by the Euro 6 standard (effective in September 2014); and the use of new engines will also To meet the EU carbon dioxide emissions standards, that 2015, the new passenger car carbon dioxide emissions shall not exceed 130 grams per kilometer.
" DSM has a strong track record in the field of materials science, including its extensive knowledge of tribology," said Jippe van Ruiten. "We believe that it is important to have industry insights in all areas of expertise, Will help us to maintain innovation leadership and become a reliable R & D partner. "
DSM is currently working on a better solution to further reduce friction and thus better reduce vehicle carbon dioxide emissions. It will launch the low friction coefficient of Stanyl HGR1 and HGR2 materials that are being evaluated by some OEMs.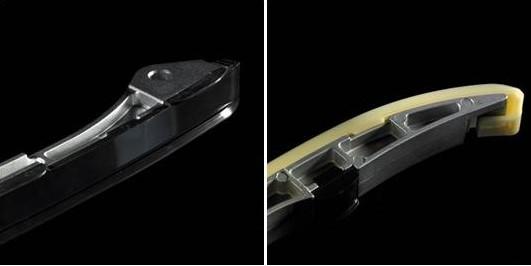 DSM offers PA46 for low-friction timing parts for the new generation of petrol engines (Photo: DSM Engineering Plastics: DSMPR478)
DSM - colorful technology, a better life?
The Royal DSM Group is based in science and technology and is active in the global health, nutrition and materials sector. DSM has expertise in the field of life sciences and materials science and uses a unique combination of the two to continually promote economic prosperity, environmental improvement and social progress to create sustainable value for all stakeholders. DSM serves sustainable solutions such as food and health care products, personal care, feed, medical equipment, automotive, coatings and paints, electrical and electronic, life protection, alternative energy and bio-based materials to provide sustainable solutions worldwide , Promote nutrition, enhance and ensure product efficacy, improve product performance. DSM and its affiliates have about 25,000 employees and created annual sales of approximately € 10 billion for the company. The company has been in Amsterdam - Euronext Next Amsterdam.
Can view industry knowledge or focus on WeChat public platform: xmkeyuan Anytime, anywhere to grasp the industry-related technical information.
Hot search products:
Modified nylon; reinforced nylon; flame retardant nylon; high temperature nylon; wear-resistant nylon; high impact nylon; flame retardant nylon; conductive nylon.
① common problems and solutions
②PDF physical document download
③ customer witness and experience
Supply> Supply PA66 high temperature nylon self-lubricating; automotive air duct, low noise, high performance, high temperature nylon engineering plastic factory direct; provide SGS; UL; environmental protection and other related certification report, free samples! The The